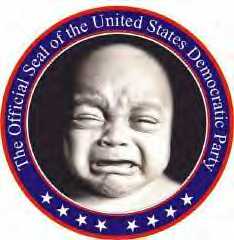 We won - fair and square. So stop whining
and get over it!

Fox News
is reporting that a report prepared by "A Democratic Group?" discovered "voter inregularities, suppression, (blah, blah) in Ohio during the 2004 Election.
Howard the Dean JUMPED on this and cried foul:
"It's been widely reported over the past several years that Republicans do target African-Americans for voter suppression. It's very clear here while there was no massive voter fraud, and I concur with the conclusion — it's also clear that there was massive voter suppression,"
("Mr. Dean, call on line two - Reality calling")
Except that one of their own researchers balked at Dean's interpretation:
Fox News:
"Where the partisan bias came from, where it went, we really have no basis for making any assertion about that and I don't believe the report makes any statements about that," said Cornell University professor of government Walter Mebane Jr.
Dean was forced to come back later and amend his statement.
"While we certainly couldn't draw a proven conclusion that this was willful, it certainly has the appearance of impropriety," Dean said."
Captains Quarters
has further analysis on the report.
Now it's on to Wisconsin and New England!
Subscribe by Email
Follow Updates Articles from This Blog via Email