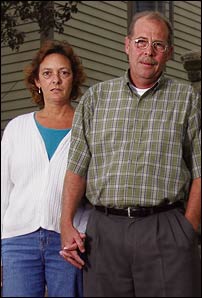 Suzanne and Matt Dery of New London Connecticut may lose their home of 20 years to benefit private developers. (Photo Credit: Photos by Isaac Reese, 2004 © Institute for Justice)
... Justice O'Connor wrote, "'Any property may now be taken for the benefit of another private party, but the fallout from this decision will not be random. The beneficiaries are likely to be those citizens with disproportionate influence and power in the political process, including large corporations and development firms."
More pics of the REAL people affected by this travesty can be found
here
.
UPDATE:
Newsday article
with more background on the people of New London.

Subscribe by Email
Follow Updates Articles from This Blog via Email